Beehive is an online forum/message board system with several powerful features. Beehive is an open-source project for creating a high-configurable frame-based discussion forum. Almost every aspect of Beehive is customisable to some degree, from the forum's name right down to how many posts per page each user wants to see, and with everything inbetween, including guest accounts, user profile catagories, your start page, your top frame, user's signatures, language packs, forum styles and emoticon sets - and if you don't like those that come as standard, it's easy to create add your own!

1. Log into your cPanel account.
2. In the "Software and Services" section, click on "Softaculous" Icon.


3. cPanel will redirect you to the Softaculous Panel.

4.  On the left side of your screen you should locate the "Forums" category. Click on it and then click on the "Beehive" link that will appear.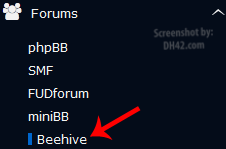 5. Click on the "Install" button.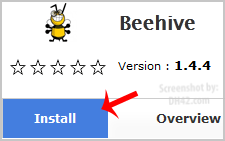 6. Fill the necessary field under the "Software Setup" field:

Choose Domain: If you don't have multiple domains, leave this as it is.
In Directory: If you want to install this in a directory, for example example.com/forum, enter the directory name. Otherwise, leave this blank to install in your main domain example.com
Database Name: You can leave this as it is.


7. Enter the following details under the "Site Settings" field:

Default Forum Webtag: Forumtag like "MyBeehive_Forum"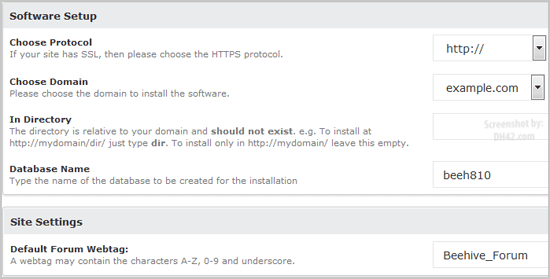 8. Under the "Admin Account" field enter the following information:

Admin Username: Your new Beehive username (for security reason do not use the "Administrator" or the "Admin" username.)
Admin Password: Use a strong password.
Admin Email: Your e-mail address. (Useful for administrator account password reset, notification, etc)



Note: Copy the admin username and password on a notepad because you will need these login details to access the admin area of your Beehive Forum.


Finally, scroll down to the end of page and click on the Install Button.