miniBB is a standalone, open source program for building your own Internet forum. If you want a lite, simple and stable message board attached to your existing website at the very high integration level, which may include the full customization of the layout to the look of your website, or even synchronizing with the existing membership system, you've just came across to the best forum solution for such purpose available worldwide.

1. Log into your cPanel account.
2. In the "Software and Services" section, click on "Softaculous" Icon.


3. cPanel will redirect you to the Softaculous Panel.

4.  On the left side of your screen you should locate the "Forums" category. Click on it and then click on the "miniBB" link that will appear.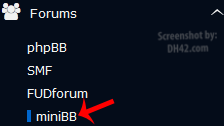 5. Click on the "Install" button.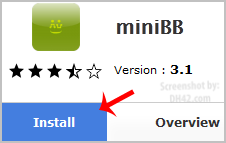 6. Fill the necessary field under the "Software Setup" field:
Choose Domain: If you don't have multiple domains, leave this as it is.
In Directory: If you want to install this in a directory, for example example.com/forum, enter the directory name. Otherwise, leave this blank to install in your main domain example.com
Database Name: You can leave this as it is.


7. Under the "Admin Account" field enter the following information:

Admin Username: Your new miniBB username (for security reason do not use the "Administrator" or the "Admin" username.)
Admin Password: Use a strong password.
Admin Email: Your e-mail address. (Useful for administrator account password reset, notification, etc)



Note: Copy the admin username and password on a notepad because you will need these login details to access the admin area of your miniBB Forum.


Finally, scroll down to the end of page and click on the Install Button.